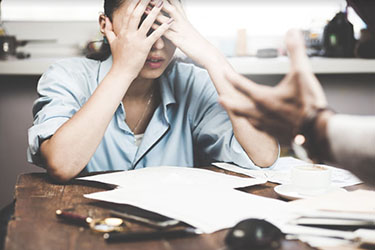 The workplace should be a place where workers don't have to deal with acts of hostility, bullying, harassment, race, and gender discrimination.
California state law, as well as Federal statutes, protect your rights in the workplace and seek to prevent a hostile work environment.
Employment Rights
In 1964 congress signed into law the Civil Rights Act making it unlawful for employers to discriminate against employees because of their race, religion, sex, or ethnic origin.
Under EEOC employment rights regulations [Equal Employment Opportunity Commission] and existing hostile work environment claims, workers have the right to work in an environment free of hostility.
Co-worker Creation of Hostile Work Environment
Generally, companies and business owners will be held liable for hostile work environments created by co-workers only if they were negligent in the discovery of the hostile acts or failure to provide proper procedures to end such acts.
Right to Protect Yourself from
Bullying Harassment and Hostility at Work – If you or other co-workers are victims of a hostile workplace because of the actions of owners, managers or other employees, contact the employment rights attorney at the Joseph Farzam Law Firm.
Our legal team has experience in protecting the rights of discriminated and harassed employees across California, and we have amassed a record of settlements and receiving judgments for our clients in the tens of millions of dollars.
We believe we are the most trusted and experienced workers' rights law firm in California.
Specific Acts resulting in a Hostile Workplace Environment
There can be many different acts that can be conceived as a hostile workplace. Some of the most common are as follows:
Discrimination based on race, sexual preference, ethnicity;
Acts of reprisals or retaliation by managers and owners;
Acts of discipline otherwise unwarranted or based on a person's identity;
Excessive monitoring of an employee;
Exclusion and isolation of an employee form the rest of the workers;
Sexual Harassment – Making of sexually insensitive jokes and lewd remarks;
Other forms of harassment;
Conduct that would be construed as severe and pervasive by a reasonable person;
Intentional inflicting of emotional distress;
Acts of intimidation force an employee to work longer hours;
Making verbal and nonverbal threats of physical harm or threatening to fire if you fail to perform a certain task.
Under California State and Federal Employment protection laws, you are entitled to work in an environment free from such actions. If you are experiencing any of these complications, contact an attorney to learn more about how you can protect your rights in the workplace.
Hostile Work Environment and Mental Anguish
If you have suffered psychological trauma resulting from a hostile workplace, you may be entitled to compensation.
There are varying degrees of mental anguish severity, as well as different manifestations of psychological impact, due to a hostile workplace.
Some of the most common are as follows:
Depression;
Anxiety disorders including Panic Attacks;
Post Traumatic Stress Disorder;
Declining Work performance;
Insomnia;
Thoughts of Suicide;
Gastrointestinal issues;
Ill health – Leading to Increased absence to due sickness and inability to work.
There can be many more forms of injury manifestations resulting from a hostile work environment that are not listed herein; the list is non-exhaustive. If you have suffered any harm including physical, emotional or monetary hardship, you have the right to seek compensation for parties at fault, including employers and managers.
Los Angeles Employment Rights Law Firm – Workplace Harassment
Our employment rights lawyers understand how violated employees may feel after being poorly treated by their employers, which is why we strive to offer all of our clients compassionate, yet reliable legal counsel and direction.
If you have experienced a hostile workplace, contact our employment rights and discrimination law firm.
We have the resources and experience to fight for your rights and take on the largest corporations in the nation and their insurance companies.
Time is of the essence and it's easy to be pressured into signing something that you shouldn't due to stress or/and unawareness of what is and could be owed back to you.